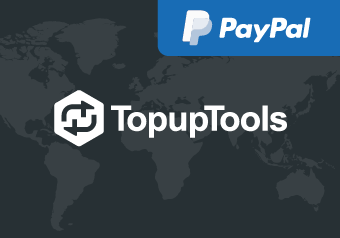 PayPal TopupTools Voucher €10
Code instantly delivered by email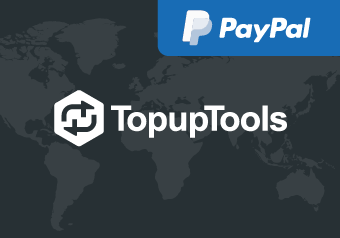 Digital code

Directly redeem your product.

Instant email delivery

All products are instantly delivered by email.

Best price

The best price guaranteed.
2. 

Select region

This code is redeemable in:
Description
Add €10 to your PayPal wallet with this TopupTools voucher. Choose from 60+ secure payment options to buy the voucher. Receive your top up code instantly by email. Redeem it directly on TopupTools.com to send money to a PayPal account of your choice. No need for a credit card or bank account anymore to add money to your PayPal wallet. Neither do you need a PayPal account to send money to someone else's account. Do you want to give someone a PayPal gift card? No problem! Simply choose a free gift card template to turn the TopupTools voucher into a printable gift card. Adding money to PayPal or gifting PayPal credit has never been easier!
TopupTools vouchers are innovative products invented by KorsIt. They are neither published by, nor connected to PayPal itself. They are intended to simplify the ease of use of electronic wallets and online payment platforms.
Validity: TopupTools vouchers are valid for one year from the date of purchase. After redeeming the code, the credit on the account can be used indefinitely.
How does it work?
With these simple steps you can top up a PayPal account of your choice with a TopupTools voucher. Fund your own account or send money to someone else's PayPal account within just a few seconds.
Visit the TopupTools redeem page.

Fill in the voucher code you received from us.

Enter the email address of the PayPal account you wish to add money to.

Double check that you have the correct email address, because once authorised this payment cannot be undone, nor refunded.

Confirm your entry.
The value of the TopupTools Voucher will be instantly transferred to the recipient's PayPal account and should be visible within a few seconds.
Please sign in with your PayPal account to check your new account balance.
Validity: Please redeemed your code within one year of purchase.
Choose a design for your card
Make your gift card more personal with one of our free gift card designs that fit every occasion! Just add a personal message and you have the perfectly printable gift card in just a few seconds!
You will receive the code directly by email, so that you can use the credit immediately.
Choice of more than 10 different designs.
Complete the checkout process safely and quickly with a choice of more than 70 payment methods.