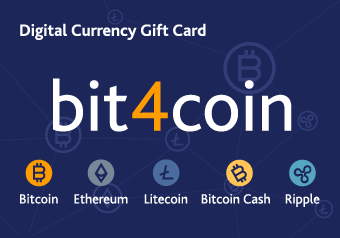 bit4coin voucher €100
Code instantly delivered by email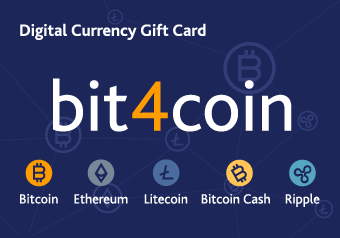 Digital code

Directly redeem your product.

Instant email delivery

All products are instantly delivered by email.

Best price

The best price guaranteed.
2. 

Select region

This code is redeemable in:
Description
After your purchase you will receive your €100 cryptocurrency gift card instantly by email. The gift card code will also appear directly on the screen. You need a cryptocurrency wallet to redeem your gift card code. While redeeming your code you will still have the option to create a wallet for your bitcoins, bitcoins cash, ethereum, litecoins or ripples. After entering your details, the coins will be added to your cryptocurrency wallet. It can take up to 30 minutes before the coins will be visible in your wallet. Once they are, you are ready to start mining, exchanging and trading cryptocurrency.
What are the transaction costs? Bit4coin is an intermediary and buys the digital currency via various exchanges at the best price. For this, it charges a 14.9% conversion fee, which is added to the exchange rate when redeeming the voucher. This amount covers all the costs and risks involved in a safe and fast transaction. The conversion fee calculation is based on real-time prices. This means that bit4coin does not add another extra fee in the background to the displayed price.
How does it work?
Redeeming your bit4coin voucher for cryptocurrency is quite easy. You need a cryptocurrency wallet to redeem your code. Which one, depends on which cryptocurrency you choose. During the redeem process on the bit4coin website you will still get the opportunity creating your own cryptocurrency wallet online. To redeem your code, simply follow these steps:
Go to the bit4coin redeem page.

Choose the cryptocurrency you want to buy with your bit4coin gift card:

After you have chosen the cryptocurrency, you have to enter your name and email address

Enter the address of your cryptocurrency wallet (or, if you don't have one, follow the recommendations for the best online wallet for your cryptocurrency and create one for yourself first).

Enter the bit4coin gift card code that you received from us.

Submit your entry.

Check your entry once more and make absolutely sure you entered the right address of your cryptocurrency wallet and click on 'Redeem'.
Note: It can take up to 30 minutes before the crypto coins are added to your wallet.
Once the crypto coins are visible in your wallet you are good to go! Start trading, exchanging and mining!
Choose a design for your card
Make your gift card more personal with one of our free gift card designs that fit every occasion! Just add a personal message and you have the perfectly printable gift card in just a few seconds!
You will receive the code directly by email, so that you can use the credit immediately.
Choice of more than 10 different designs.
Complete the checkout process safely and quickly with a choice of more than 70 payment methods.